Testing team plays an essential role in defining the success of a particular software product. Team composition defines in different ways in many companies and even in each project. The same regarding organizational structure. It depends on the project's specific and product budget. But along with this – team location, knowledge, skills and practical experience. Leading elements that influence may change over time.
The testing team possible consist of one single general QA engineer or many QA professionals who perform different tasks and have various responsibilities within particular skills. They all work together to achieve the overall objective of the project. On the other hand, quality is the responsibility of each team member.
One full-stack QA engineer cannot test big products alone because it is very resource-consuming. Also, full-stack testers are inferior to niche QA engineers when causing the need for highly specialized knowledge.
Ideal size for QA team
The ideal size depends… but what? Topic how many members are in a QA team is old. Follow the link to meet the top answers on StackExchange. The organizer of this discussion complained that with the growth of his team, overall team productivity was down. So, he asked for advice. There detected clarifications of at least 3 test engineers and up to 10-12 for high-scaled projects. But all participants agreed that there is no universal formula for an effective QA team.
Normally, the following members compose a software testing team ⬇️ 👉 Let's briefly look at their roles and job responsibilities in the testing process!
Software testing Role & Responsibilities

Quality Control Engineer (QC)                        

The term comes from the manufacturing industry. QC in the software industry are responsible for testing new products and determining whether those products meet business requirements in reliability and functionality. Implements the process established by QA procedures Finds defects.
Quality Assurance Engineer (QA)
Determines a process that can enable to test of a particular product in the beat particular manner. Creates test cases and documentation. Executes all levels of testing. Run tests according to the standards. Analyzes and reports test results. To help troubleshoot errors, before the product will be pushed into production.
Test Analyst
Focuses on the business problem. Should have the ability to see the big picture, planning and organizational skills. Analyze requirements and acceptance criteria, design documentation, develop test plans, execute tests, analyze and document results.
Test Consultant
Involved in all phases of an IT project where they can improve all needed aspects of software development. They ought to be interested in the current trend in software development (including Agile and DevOps). An analytical mindset and of course excellent communication skills.
Test Automation Engineer (AQA)
Primarly is focused on coding and then quality. Develop scripts to run automated tests using of the shell tools like Selenium. Codecept or others to design and write test cases.
Test Architect
Works with the project infrastructure, designing and implementing test automation tools to support product code, test code. So performs low-level testing like unit testing, module testing, acceptance testing. Should have strong knowledge of backend services.
Test Manager
Acts as a project manager. Design test strategy, organize the testing process and supervision the teamwork.
Director of test
A one senior manager who manages Test managers. Set QA strategy and approach for all the company`s products and be ultimately responsible for quality. Guarantee the success of manual and automation efforts of the team.
Moreover, many QA teams are even more diverse. There may be several QA engineers, Test Analysts, Test Architects, Test Managers, QA Team Leads and other QA roles. Sometimes they divide their authority and responsibilities with each other.
In-house teams don't always have test automation engineers.
A manual QA engineer can partially or completely perform the role of a QA analyst.
The demand for a QA architect is more noticeable in big companies with complex infrastructures.
And in an adversary, it's very important in a team that team members know what is expected of each of them.
Make it clear who is in charge and what you expect from your team
Make sure everyone is clear about his role and responsibilities.
The outsourcing QA teams can balance business requirements, testing and delivery in several projects, what's much more tricky!
Building and managing a high-performance test team that provides business value to the organization is one of the most complicated tasks in test management. Besides, the QA manager, HR manager, CEO, CTO and talent equitation manager participate in team organization as well. They are reviewing candidates in terms of their duties.
If you want to create a capable testing team, you must outline the software testing team structure, assign software testing team responsibilities, and define software testing team goals.
Managing a team is a very challenging task for the Test Manager too. The primary goal of a good manager is to keep the project on track.
The essence of the Agile Software testing team
One more time saying, TEAM – Together Everyone Achieves More. This means Agile at first, is a team-orientated approach as well as a customer-orientated approach.
Individuals and interactions over processes and tools.
Working software over comprehensive documentation.
Customer collaboration over contract negotiation
Responding to change over following a plan.
And the next 12 Agile principles are:
Satisfying customers through early and continuous delivery of valuable work.
Breaking big work down into smaller tasks that can be completed quickly.
Recognizing that the best work emerges from self-organized teams.
Providing motivated individuals with the environment and support they need and trusting them to get the job done.
Creating processes that promote sustainable efforts.
Maintaining a constant pace for completed work.
Welcoming changing requirements, even late in a project.
Assembling the project team and business owners on a daily basis throughout the project.
Having the team reflect at regular intervals on how to become more effective, then tuning and adjusting behavior accordingly.
Measuring progress by the amount of completed work.
Continually seeking excellence.
Harnessing change for a competitive advantage.
In Agile SDLC, testing starts in the early stages of software development, so development and testing processes are simultaneous. And as a result testers are closely integrated into each stage of the Agile Software Development Life Cycle.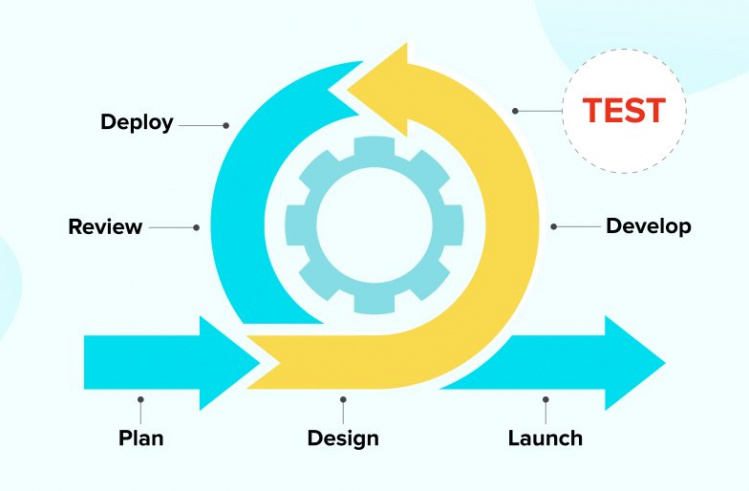 QA involvement helps to optimize the risks and create alignment. QA engineers check the requirements for inconsistencies or logical gaps. They closely interact with Dev teams.
QAs check all of the product features by the way of finding and reporting bugs and estimating overall product quality. Testers have the power to approve software for release or send code to rework. The decision depends on the number of critical bugs.
After the release, the QA team repeats the stages mentioned above over and over again during the product life cycle. They check new features, find new bugs during regular software inspection, and analyze bugs reported by users.
Factors influencing QA team performance:
effective communication
engagement
strong collaboration on a daily basis.
knowledge transfering
These traits are essential in synergy testing efforts that influence on the end product quality.
Sharing of experience, mentoring, coaching, training and team building are also important in growing effectiveness within an Agile team.
Motivating the testing team
Guru99 abstract: teamwork without motivation look like a body without a soul. If you have a motivated team, be sure this team will improve your project quality and productivity at times.
What do you think about these titles?
Principal QA Engineer
VP Engineer
Transformation manager
Managing Director
Bottom line
🤗 Please, share your opinion:
What career path for Software testing professionals did you choose?
What are your QA job title and responsibilities?
Let's talk, share your experience in a comment we would be glad to hear it! If you have any other or duties will free to reach us on Twitter, we will be happy to discuss the above with you.