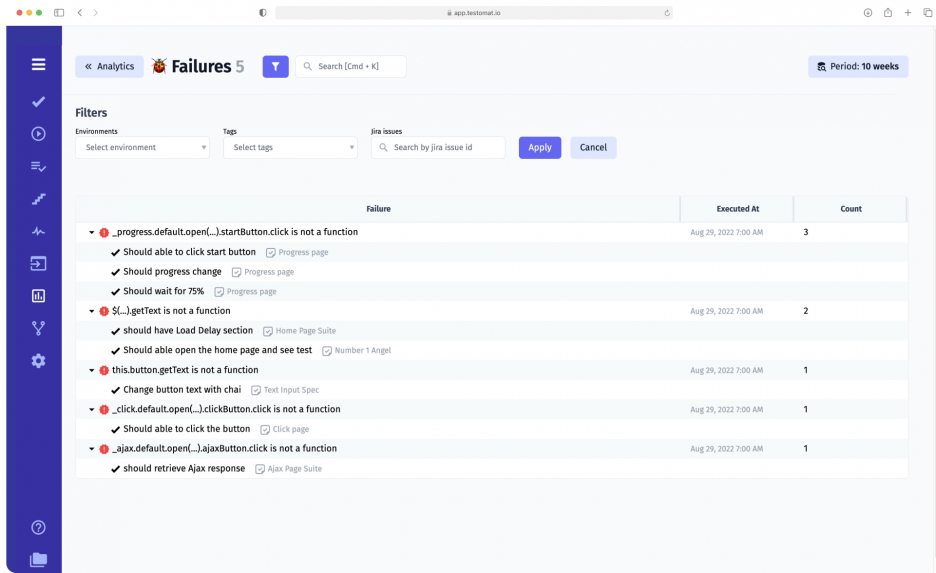 Test management web solution testomat.io provides all-in-one defects tracking on the apart Defects widget of the Analytics Dashboard. This dashboard allows QA Team Leaders and QA Managers to track defect management within Agile development. Сonsidering how many problems are found by the tool and which part of a program they are allocated.
The Defects widget saves a lot of time to QA professionals, as they may work directly from the test management system.
How defect management is integrated with test management
On the Defects Dashboard, you may see the list of defects per period of time. Note, that the title of the defect is equal to the comment field in the failed test case. If the comment is not mentioned, the defect will not appear on the defects board. In other words, it is a Stack trace. Also, you can see the number of all tests belonging to each defect. To see these tests, just click on a defect.
Test management within advanced Jira plugin
Defects through seamless integration are connected with Jira defect tracking tools. You may easily link failed test cases to defects. So, choose to attach a Jira issue, then create a new or choose an existing issue, enter defect IDs, title and your defect will be automatically linked to Jira bug tracker. Track this defect on Jira defects board. On the other side, developers are able to turn directly to failed test case and check the bug reason. However, a piece of code has been displayed in failed automated tests.
Out-of-the-box solution for all your defect management needs!
Defect management search & filtering defects
The Defect management widget allows you to filter your defects by date, count and defects alphabetical. Also, you are free to trace defects through time settings for a particular time as you want. For instance, 2 weeks a time of your sprint, 4 weeks, 12 weeks duration etc. It means a complete defects overview of the in-progress project is always at hand, during its testing life cycle.