Nowadays every organization relies on business applications, websites, and digital services to engage more users and connect to potential customers. Every user expects great digital experiences. When trying to meet users' expectations, software products should have been put through usability testing.
Forrester's study found that websites with better user interfaces and experiences have a 200% higher visitor-to-lead conversion rate compared to websites with poor user experiences.
That's why organizations that skip usability tests may speed up initially but always face more delays, upset users, and higher costs in the long run. With usability testing tools in place, you can understand your real users and their needs, uncover unnoticed problems, and save time and money. This is all but guaranteed with robust usability testing and almost impossible without it.
What Does Usability Testing Mean?
Usability testing is used as a research method applying principles, research methodologies, and techniques for gathering and analyzing user feedback to discover how intuitive and easy-to-use the software products are as well as make sure users achieve their objectives with a positive experience.
Usability testing type is Aimed to uncover pain points in the user journey, it helps teams to improve the overall user experience by solving users' problems. It carried out by UX researchers or usability experts who may work within the company developing the product or may be hired as external consultants. Ultimately, when performing usability testing, you can find out the following:
→ To validate a prototype by carrying out prototype testing
→ To understand user behavior, learn more about their behaviour
→ To uncover pain points, like bugs or functionality issues
→ To get insights that help create a better overall user experience
In addition to that, stakeholders, product managers, designers, developers, and other relevant team members should be engaged in testing the product's usability to gain insights into the product's performance and identify areas for further improvement.
What's more, usability testing should be conducted across different devices and browsers to make sure that cross-browser compatibility and consistent user experiences are achieved. Using cross-browser testing tools or incorporating other usability testing tools allows teams to meet specific testing requirements.
What are the types of usability testing?
To get the most out of your testing, you must first determine which usability testing methods method of testing is most appropriate for your project. Generally, usability testing types fall into three main categories: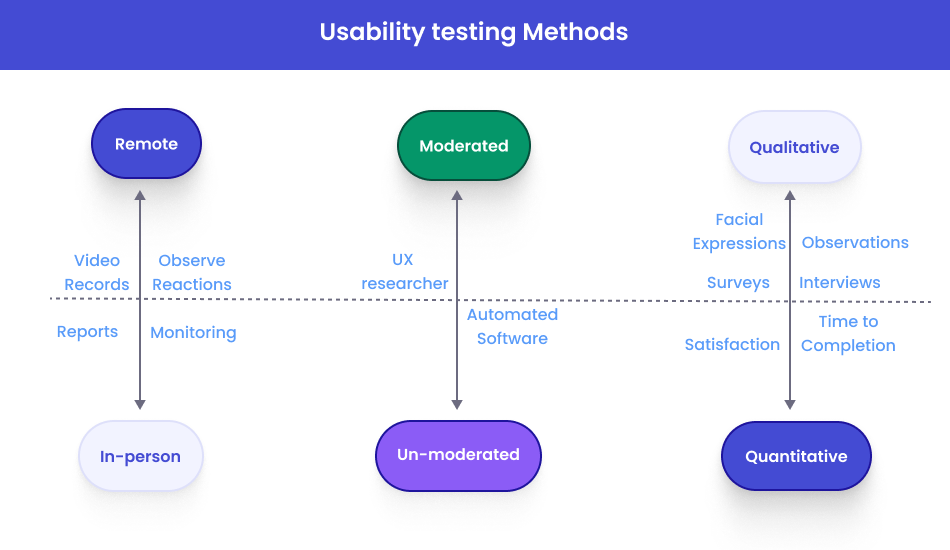 Qualitative or quantitative usability testing
When conducting user research, it is essential to comprehend and gather both qualitative and quantitative data in order to carry out a comprehensive evaluation of the user experience. Qualitative usability testing enables the measurement of user actions, encompassing what users do and how they do it. This methodology facilitates an understanding of users' experiences, thoughts, and emotions while interacting with a website or application.
Quantitative usability testing enables the collection and analysis of numerical data to identify patterns and make predictions. Metrics such as success rates, task completion times, error rates, and satisfaction ratings provide valuable insights to your team, shedding light on the reasons behind user difficulties, user engagement with your product, and potential issues with specific features that may go unnoticed.
Moderated or unmoderated usability testing
With moderated usability testing, the trained facilitator or moderator will work directly with the test contributor, guide them through a series of tasks and controls the process. If the contributor encounters any challenges while completing their tasks, the trained facilitator or moderator can ask what the problem was and what they expected to happen. This helps obtain information from the participants about the usability issues they have encountered and solve the problem the participant experienced. Using this approach allows you to test complicated prototypes and design solutions that have security requirements.
Unmoderated testing doesn't entail the active engagement of a trained facilitator or moderator and allows the participant to complete tasks at their own pace. All you need to do with unmoderated usability is produce the usability tests and recruit the participants to take them. However, this testing approach is recommended for less complex prototypes. When facing technological difficulties, participants skip through the early tasks and move straight to the follow-up tasks. This will negatively impact the test results and will not illustrate the process in a big picture.
In-person or remote usability testing
Remote usability testing can be moderated or unmoderated. With online user testing tools or software, users can share their screens, record their activity, and provide feedback. It's useful because your team and test participants can locate in entirely different places.
In-person usability testing is carried out in a face-to-face format. Commonly, users are asked to perform various types of tasks in the presence of a researcher. Being more time-consuming and expensive in terms of geographic location and sample size, this type of testing may be a good option for products that require safety considerations,and supervision.
Selecting the right usability testing tool that aligns with the research objectives and resources is imperative for any team. By leveraging these tools, teams can record user interaction, gather qualitative and quantitative data, identify usability bottlenecks, and optimize the user experience.
What's more, other techniques like multivariate testing, user surveys, and conversion funnel analysis can complement the overall UX research strategy. These methods provide both qualitative and quantitative feedback as well as offer a comprehensive view of user preferences and behavior.
How do you test usability?
No matter the method of testing, performing a usability test usually consists of next 5 steps: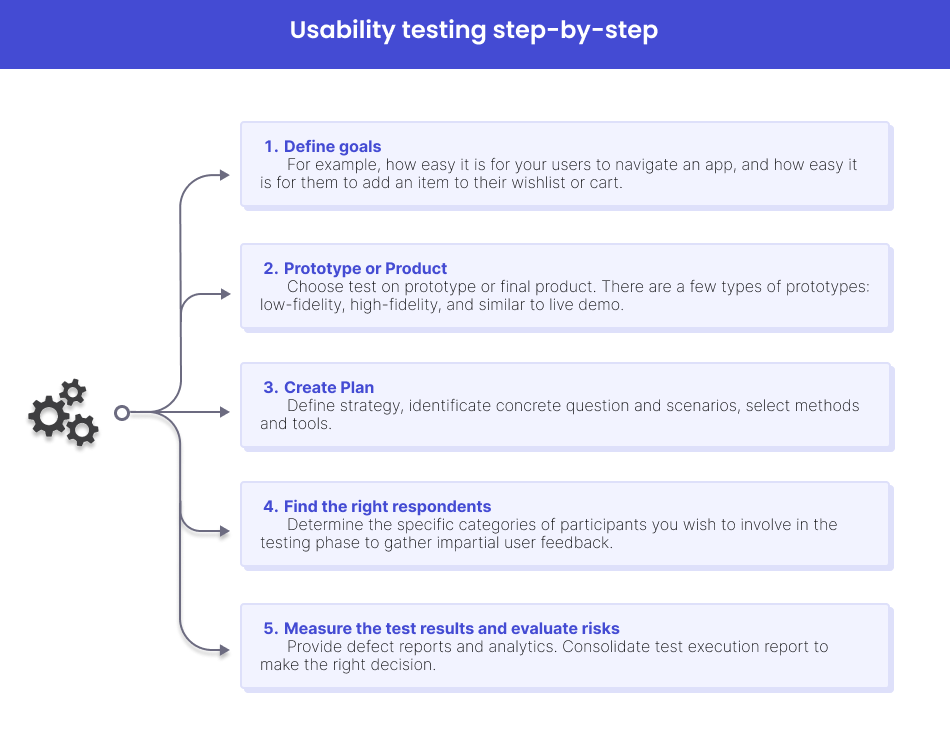 #1: Define goals
Having the usability test plan is crucial in the whole process. Its idea is to act as a roadmap that will show you all the steps that must be taken when trying to build a prototype and perform user testing. More importantly, you should come up with the goals. The following questions will help you define them:
What do you want to learn from your user tests?
What type of data do you want to collect (qualitative data or quantitative)?
Setting clear goals will help you build the right kind of prototype and choose the most appropriate testing method. For example, if you're developing an e-commerce app, your goal might be to test how easy it is for your users to navigate an app, and how easy it is for them to add an item to their wishlist or cart.
#2: Have your prototype ready to run usability tests
Once the goals have been clearly defined, you will need the prototype to carry out the tests. If your team is in the very early stages of testing an idea of a future product, using low-fidelity prototypes will be a good option. However, if you want to test the finer details of the product, you should stick to mid and high-fidelity prototypes. More importantly, having a prototype that resembles the final product closely is mandatory for the usability testing procedure.
#3: Create a plan
With a ready prototype and defined goals, you need to create a plan for your usability testing session. Outlining the process in detail ensures the testing is organized, productive, and insightful. That's why your plan should include the following information:
what usability testing tools or software you need to get the job done
how many users you'll test with usability testing tools
what usability testing method you select for testing (quantitative or qualitative testing, in-person or remote usability testing, moderated or unmoderated moderated or unmoderated)
how you'll document and measure your findings
how to report severity levels of problems found with usability testing tools
#4: Find the right users for testing
With a testing plan and a working prototype, you are already halfway there. At this step, you need to establish user criteria and decide what types of participants you want to include in the testing process. The best option is to select testers based on your user personas or target audience or focus on specific niches. More importantly, you should find participants who will provide unbiased user feedback—good or bad—to really get value out of the tests provided in user testing tool.
#5: Measure your test results
Once everything is done, you should summarize your findings and analyze them. Each finding should have a basis in data — an audio recording, a screen recording or a recording of the test participant from a webcam. Keep in mind that you should have usability test reports with positive findings instead of focusing on problems only. You should analyze the data, and identify patterns and trends. This will help you reveal problems that occurred across participants and make improvements.
What is a usability testing tool?
A usability testing tool is a software product that helps your team find out how real users interact with the website, app, or any digital product, what features and functionality work perfectly, and which areas require improvement. By conducting user tests and collecting relevant data, you can reveal all the information. Additionally, the tool should help you in:
Measuring users' satisfaction with the user-friendly and smooth interface of the testing tools
Discovering the product's possible weaknesses/strengths
Receiving useful feedback on how the product can be improved
Displaying accurate and easy-to-understand results of prototype tests.
How I Selected the Best Usability Testing Tools: criteria
It's no secret that identifying exactly what you need most from usability testing tools such as remote usability testing tools, free usability testing tools, online user testing tools and other tools can be challenging. When selecting them, you should take into account the specific requirements of the usability testing project and consider the following criteria of the platform. Moreover, you should look through several usability testing tools and discover:
Whether it provides a user-friendly interface for creating and customizing usability tests.
Whether it allows you to do user research, recruit, schedule and test participants.
Whether it provides in-person or remote usability testing, qualitative or quantitative usability testing, moderated or unmoderated usability testing.
Whether it enables you to capture data from different sources, including video recordings, screen captures, user interactions, and survey responses, etc.
Whether it provides great reporting and visualization capabilities.
Whether it is compatible with other tools or platforms you are using, such as project management systems, bug-tracking tools, or prototyping software.
How important is usability testing?
When developing software solutions, it is crucial to be in the know how it is easy for users to utilize your product or service. With usability testing, you can find out what works well and what needs to be improved. What's more, you can realize numerous advantages, including:
unbiased assessment of the product and direct feedback from your target audience
assessment of user satisfaction with a product prior to its widespread launch
detection of usability pain points before a product launch
time and cost savings by addressing concerns during the early stages of software development
verification and confirmation of usability requirements
From there, you can proceed with assurance that the product will fulfill customer needs and expectations. If significant issues arise, it provides an opportunity to recognize shortcomings and address them before production and ensure continuous improvement.
Top usability testing tools
There are many usability testing tools out there. When choosing the best one for your software product, the first step is to list all your needs and pain points. Once done, here is a list of the best usability testing tools that are worth trying.
UserZoom
Specifically designed for digital teams, UserZoom is known as an Insight Management platform that helps teams efficiently gather, share, and analyze customer experience (CX) and user experience (UX) insights throughout the organization as well as drive the development of valuable products. Facilitating the scheduling and monitoring of digital experience performance criteria, this platform allows teams to track performance over time and compare it with competitors.
What's more, the unified portal provided by this usability testing tool is helpful in standardizing UX metrics and real-time questions, capturing user-centric information, and detecting behavioral patterns.
Platforms supported: Web
Key features: website usability testing with heatmaps, prototyping, screen recording features, unmoderated testing, user journeys, user research, advanced reporting hub.
Notable for: finding participants in a short time frame and delivering tests in a jiffy.
Maze
Designed for product teams, Maze continuous discovery platform offers an interesting option for unmoderated tests. With great integration capabilities, Maze can give you feedback on your latest prototypes generated from design platforms like Adobe and Figma. In addition to that, this usability testing tool has a range of helpful features, such as survey templates to ask participants pre-set questions about prototypes. What's more, it allows you to share your data with handy visualizations and reports.
Platforms supported: Web
Key features: video and screen recording, design tool integrations, remote tests, preference tests, five-second tests, card sorting, tree tests, surveys, participant recruitment.
Notable for: slick integrations and features for running unmoderated tests on autopilot.
Userlytics
Created for small and large businesses, Userlytics cloud-based usability testing tool allows teams to test various digital assets such as websites, applications, prototypes, competitors, and more. This usability testing software not only generates different types of tests but offers in-depth assessment results based on several usability metrics. In addition to that, it helps businesses hire testers by creating and sharing recruitment links with potential participants.
Platforms supported: Web, Android, iPhone/iPad
Key features: annotations, privacy protection, customizable invitation widgets, UX test preview, video transcriptions, participant recruitment.
Notable for: supporting testing across various channels, including live products, generating insights from worldwide users, and identifying pain points and usability problems.
Datadog
Datadog platform monitors both user-level data and technical product performance and provides valuable insights taking into account your target audience. Datadog's real user monitoring allows teams to gain a deeper understanding of the user experience, detect patterns as well as provide in-depth analytics.
Platforms supported: Web, Android, iPhone/iPad.
Key features: real user monitoring, synthetic monitoring, continuous testing, session replay, dashboards, alerts, and data export.
Notable for: handling monitoring and analytics at the cloud scale with real-time metrics and logs visualization.
Hotjar
Being a conversion optimization tool, Hotjar allows teams to monitor the behavior of your website visitors and offer valuable insights to enhance your website's performance. With its help, product managers, UX designers, and researchers can identify user pain points, analyze user actions, and improve the overall customer experience (CX). This helps teams not only gain a deeper understanding of the users but also take informed steps towards optimizing the website to drive better results.
Platforms supported: Web
Key features: heatmap analysis, visual session recording, conversion funnel analytics, form analytics, feedback polls and surveys.
Notable for: identifying the most insightful user journeys by collecting data from every individual visitor, filtering and analyzing based on audience segments and user behaviors.
Plerdy
Designed to enhance website performance and user experience, Plerdy platform allows teams to understand how visitors interact with their websites, identify and anomalies and areas of improvement. By recording users' interaction with various website elements via session replay functionality, it provides valuable insights into user preferences, and highlights areas that attract attention or may require optimization.
Platforms supported: Web
Key features: heatmaps, screen recordings, and surveys.
Notable for: providing accurate user behavior reports
Testlio
Specialized in functional and exploratory testing, Testlio platform allows teams to incorporate usability tests as part of their testing initiatives. However, if instructed, teams can focus on specific usability criteria, provide feedback on user interface design, identify usability issues, and offer suggestions for improvements.
Platforms supported: Web
Key features: user recruitment, moderated testing sessions, think-aloud protocols, reporting, and analytics.
Notable for: looking for ideal participants and recruiting them to uncover user frustration points and make improvements.
Usertesting
Being a well-established remote testing platform, UserTesting offers a range of advanced features specifically designed for conducting customer experience (CX) research, making it particularly suitable for large businesses that regularly run testing campaigns. With a comprehensive set of testing features, such as performing usability tests, live interviews, and other UX research methods, it provides additional research capabilities, including brand and message testing.
Moreover, a noteworthy advantage of UserTesting usability testing platform is its utilization of machine learning technology that enhances the platform's reporting and data analysis capabilities. In addition to that, it generates advanced and in-depth insights from your usability tests.
Platforms supported: web-based, iPhone app, Android app.
Key features: live interviews, moderated and unmoderated usability tests, card sorting, tree testing, brand and message testing, surveys, mobile front camera recording, reporting hub, participant recruitment.
Notable for: small teams can conduct their research with increased efficiency and speed with highly flexible testing and analysis tools.
Global app testing
This platform helps teams find out how the various features work in the real world. By testing a software product across all the different devices and platforms and collecting quantitative and qualitative data, this tool enables them to identify usability issues and make appropriate changes.
Platforms supported: web-based, iPhone app, Android app.
Key features: test management, test execution, bug report/analysis.
Notable for: having a strong network of professional testers who can test applications on real devices to provide feedback on usability, functionality, and performance.
Userbrain
Based on cloud technology, Userbrain platform allows teams to effectively evaluate and validate customer experiences as well as leverage continuous feedback. Moreover, software engineers can conduct usability testing on a wide range of devices, including live websites, prototypes, wireframes, content, images, etc. This helps professionals in identifying and addressing bugs or issues through user comments, quotes, and feedback. Additionally, designers can easily download, share, and export evidence videos and recordings in various formats and make improvements.
Platforms supported: web-based, Android mobile app.
Key features: remote unmonitored usability tests, participant recruitment, test instructions, test templates, analysis.
Notable for: offering rapid turnaround times to test usability and providing rapid feedback and insights within a limited budget.
Most usability testing tools are powered with main features, including tree testing, recruiting participants, session recordings, easy integration, click testing, first click tests, five second tests, card testing, follow up questions, online surveys, design surveys and other features. Some features are only available on the paid enterprise plan while others may provide free plan for conducting usability testing.
If applied properly, teams can recruit participants with ease, and conduct tests such as remote test, preference test, quantitative tests to learn more about user friendliness of website or mobile app. What's more, they can observe real users and get feedback from them to make data-driven decisions.
Bottom line:
Thus, Ready to meet new market and customer demands with usability testing tools? Keeping users happy while serving them effectively and efficiently is the best way for any organization to achieve its primary goal and drive revenue. That's why you should buy into the benefits of user testing and select the right usability testing software.
Adopting usability testing allows you to stay relevant to customer wants and needs as well as remain competitive in the industry. With that in mind, usability testing and user testing might not be just an option for any established organization, but the necessary ingredient for long-term success.
If you have any questions, drop us a line and we will help you find the right usability testing tool or user testing tool to perform usability testing to get value out of it.