When developing software products, having testing tools in place is a must. This helps you find errors or missing requirements and deliver well-polished products that are free of defects. This one is Jira. Jira test management improves the overall testing process.
Only a properly tested software solution ensures security, high performance, and scalability contributing to time savings, cost-effectiveness, and customer satisfaction. Having that in mind, opting for test management tools is the only way to keep pace with high-quality development and verify software products for all possible bugs.
What is Jira and why using it as a testing tool is a good choice?
At its most basic, Jira acts as a project management tool. It's a system of tracking and managing tasks, projects and teams as well. Essentially, it's an organized tool for supporting any type of project by incorporating a great number of features and integrations.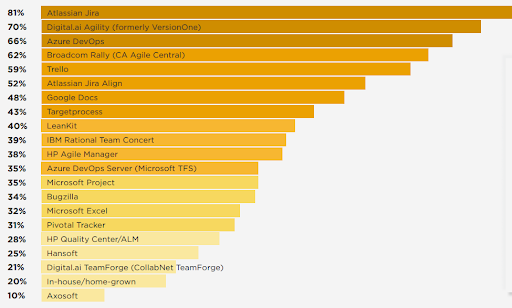 Source
According to the 15th State of Agile Report, Jira is known as the most highly recommended tool in the agile-driven world. Here are some important reasons companies select it:
Jira provides visibility over ongoing projects and helps track all activities, including team members assigned, team comments, issues, etc.
Jira offers excellent integration capabilities – Confluence, Bamboo, FishEye, Stash, etc. can be integrated with Jira with ease as well as other external systems and applications.
Jira highlights important milestones and generates reports on almost any aspect of the development process.
Jira allows teams to get more out of their business processes by customizing the system to meet their unique business needs and requirements.
Jira guarantees compatibility with iOS/Android mobile devices – this means getting everyone on the same page and staying connected on the go.
Jira powers your business with effective team workflows that increases productivity and transparency.
Jira's test management workflows
Being a fully customizable tool, Jira opens up ample opportunities for teams in an agile-driven environment. Let's take a closer look at the test management workflows it provides for users:
Customization. Teams can perform manual testing inside and handle automated testing with the help of a CI server.
Integration. When integrating a test management tool, teams can speed up the testing process and realize its full potential with an external software solution.
Both these approaches provide real-time integration and connect sprints, epics, user stories, new features, tasks, etc. to the test cases, test case assignments, and execution.
How to choose a Test Management Solution that works with Jira
When looking for a test management solution, the choice can quickly become complicated. To help you choose a test management solution that works with Jira more efficiently, we have come up with key considerations you should look into below:
Agile-driven workflow. A test management tool should simplify the testing process and enable team members to manage the whole test lifecycle more effectively and get a clear picture of the complexity of the test cases.
Great customization. A test management solution you look for needs to be greatly customizable and aligned with your unique business processes. This helps you create a more seamless workflow for test execution, test design, or test planning and offer configurable gadgets to track the progress of your project in a granular manner.
Test automation. A built-in automation feature is essential when it comes to looking for a test management tool. This helps your teams make the testing process automated and deliver the software products of the highest quality.
Speed and simplicity. When looking for a test management system, you need to take into account easy test import, creation and execution. In addition to that, the high performance the tool offers is an important option to increase team productivity.
Powerful reporting. A test management solution should provide reporting and analytics options so that the teams can stay up-to-date with the progress. Moreover, using actionable information creates visibility and helps teams evaluate the performance of the testing process as a whole.
Collaboration. A test management solution should be intuitive and easy to use with all features properly showcased. This helps the team take advantage of all the different components of the tool and keep everyone moving forward in the same direction.
Price and vendor support. When shopping for a test management system, it's critical to find a balance between cost and features. In addition to that, you need to ensure it offers maintenance and customer support when you need it.
Top Test Management Tools for Jira in 2023
With so many test management systems on the market to choose from, it can be challenging to find the right one. Here are some tools to consider that represent a wide range of features and prices.
Zephyr Scale: this tool provides test management activities including test planning, specification, execution, tracking and reporting right inside Jira, helping teams coordinate changes successfully.
Xray: this tool delivers customizable screens and seamless workflow as well as allows team members to manage manual and automated tests as Jira issues in a transparency-based way.
TestRail: integrated with Jira, this tool helps teams manage test cases, plans, and execution more efficiently. This boosts testing processes and brings to life high-quality software solutions.
Zephyr Squad: this tool allows teams to plan and execute test cases and utilize BDD scenarios. This optimizes the speed and quality of software testing.
Kualitee: if integrated with Jira, this tool enables teams to execute test cycles and log defects. It also provides a customizable dashboard and reports to keep track of issues in one single location.
Testomatio: this tool allows technical and non-tech specialists to collaborate in one single place and manage automation testing along with manual testing. This levels up test automation coverage and helps to deliver high-quality products.
Advantages and disadvantages of making Jira your testing tool
Undoubtedly, Jira is a powerful testing tool in the toolbox of any software development company. Though there are both Jira's advantages and disadvantages. Let's find out them below:
Advantages of making Jira your testing tool
Disadvantages of making Jira your testing tool

Promoting great integration capabilities (CI/CD pipeline for quality checks)

Generating reports related to testing to get an in-depth analysis of the product quality

Providing a central repository for both manual testing and test automation

Driving visibility and productivity in the agile-driven workflow

Not a good fit for development teams

Providing complicated interface

The time-consuming process of creating test cases 

Delivering limited functionality  when it comes to the test case management

Lack of test case automation
Jira test management limitations vs full-featured test management app
Unfortunately, Jira provides the most basic functionality for QA teams and doesn't allocate the testing process as it should. Taking into account Jira test management limitations, opting for a full-featured test management system is an attractive option. When there is a clear workflow, and clear features to perform work, your teams can take advantage of a full-featured test management system much more effectively. Here are some benefits they can derive:
It offers test planning and reporting for teams working across multiple projects in one place.
It facilitates the testing process by allowing team members to easily design and execute test cases in real-time.
It helps to manage all types of tests and keeps teams in sync on product quality.
It provides automation and integration with BDD and CI.
It helps to keep track of changes by displaying a complete history of all activities.
Bottom Line: Ready to streamline your testing process?
Choosing the right test management solution entails a careful and time-consuming process. There is no one-size-fits-all solution, and each test tool caters to specific business needs.
Moreover, not all test management systems provide you with all the functionality. That's why it's crucial to engage your team and identify critical features that set you up for success in the testing process. Nothing boosts the testing process and improves productivity like opting for the right test management system that leads your team triumphantly toward business success.