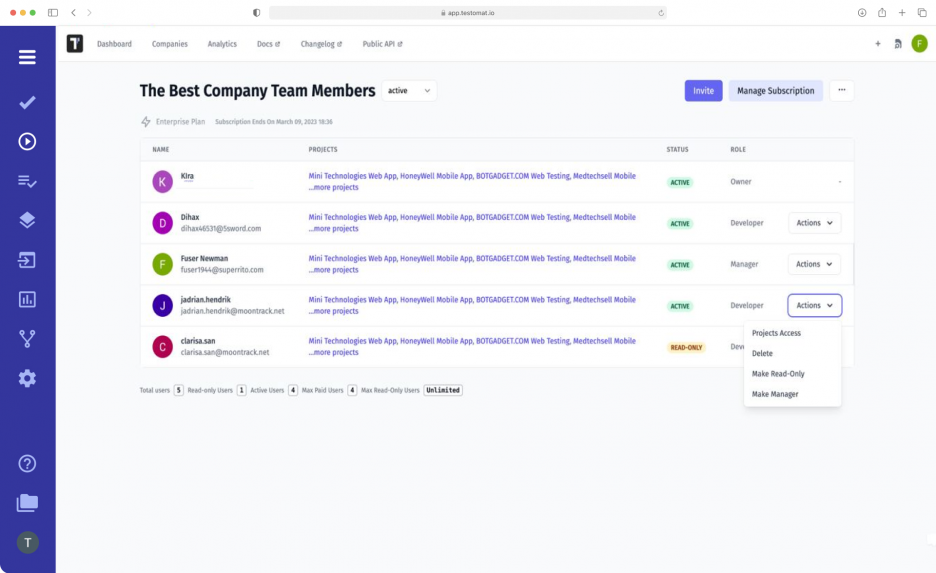 Test management tool testomat.io includes different roles: owner, manager, and developer. Owner has full accessibility and can assign a manager for complex user and payment management. This is the Manager Role Capabilities feature. Such a team member can make important management decisions within the company and each project.
Main Manager Role Capabilities
TMS has a separate Companies page. When you navigate to a specific company, the Team Members page opens. All users and projects they participate in are displayed here, as well as their statuses and roles.
A manager can regularly manage users and projects, namely:
Add and remove users. To add a new member, click Invite. If necessary, the manager just as quickly removes users from the company.
Give access to projects. The manager sees a list of all projects in this company and their participants. They can give a specific user access to one/all projects using the Add to project or Add to all projects options.
Assign and change statuses. The manager assigns Active and Read-only statuses. The first status allows the user to make changes without restriction, and the second is only to view data.
Appoint managers and developers. A manager can make another team member a manager to jointly manage the company. They also appoint developers, who get regular access to projects (but are not allowed to change roles or give Read-only status).
Manage payments. One of the manager's key responsibilities is to manage company-specific and project-specific payment processes.
Thus, the level of visibility of the project(s) depends on the user's permissions. In addition to the owner, all permissions and accesses are exclusive to the manager (except for deleting a company).
Functions linked to Manager Role Capabilities
Manage users and roles – test management system allows the manager to interact with users at all stages, Manage users and Roles as well. This ensures consistency and transparency of processes and increases the efficiency of teamwork.
Agile Workflow – managers can grant access to projects to all team members, including non-technical specialists (especially when it comes to BDD tests).
Analytics – a manager looks at the results of the team's work: from the number of tests to the environments used. This gives a complete understanding of the project.